Android 12 hibernates apps that have not been used for a long time, to save battery and free up space
From Android 11, Google started limiting apps that had not been used for a long time, as it was able to revoke their permissions automatically. With Android 12, this will be extended by hibernation which we now have more details thanks to XDA: Free up space from apps that you haven't used for a long time.
So far, we knew Google was preparing a hibernation system, but we don't know how it will work or what the process will be visible to the user. Now we have a better idea about it How will Android 12 hibernateWhere they were able to activate it in a filtered beta of Android 12.
Limitations of apps that you haven't used recently
We finally have an idea about How will auto hibernate the app work? Google is preparing for, or at least, how the current version Google is testing will work, as the system can always be changed before the final release.
For starters, it looks like your username will be Unused apps a Unused apps In English. Google describes them as apps That hasn't been opened in the last three months. In Android 11, the system is already making this distinction to revoke permissions for apps that you haven't opened for a long time.
In Android 12, the concept is expanded and a new section will be shown in the app info for Remove permissions and free up space When you don't use an app for a long time. There will also be a new section in the Apps section of Settings, where you can check which apps fall into this category.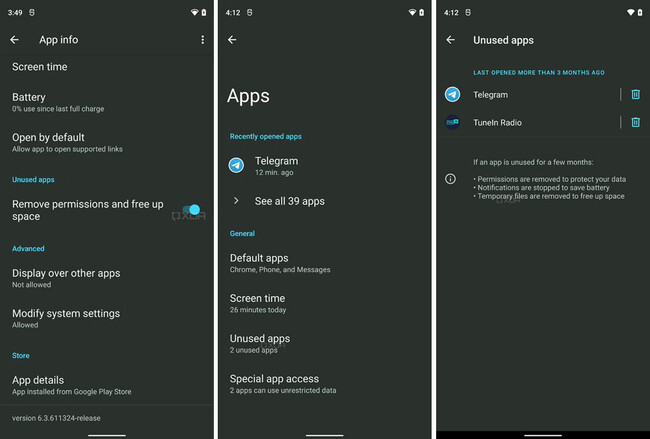 When an app falls into this category, three things will happen: Their permissions are revoked, they stop showing notifications, and temporary files are deleted To free up space. It is not clear what exactly the files were removed, although the cache is most likely in between and not personal data or settings.
This will put apps in a difficult situation that needs to notify you of things every few months, although this is only possible. Disable hibernation from your settings. Also, it is not clear if Android will activate hibernation by default in all apps or not. We'll have to wait for the next developer preview, and it should be when it drops: DP3 should arrive before the end of April.
Via | XDA