Jesse Lingard, Luke Shaw and John Stones are back in the England national team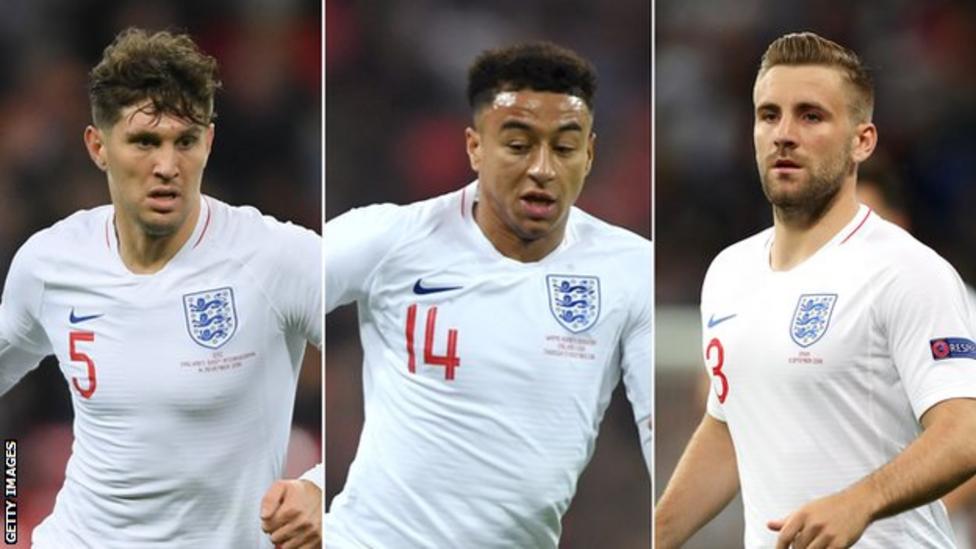 England coach Gareth Southgate has called up Jesse Lingard, Luke Shaw and John Stones to his squad for the 2022 World Cup qualifiers later this month.
Aston Villa striker Olli Watkins and West Bromwich Albion goalkeeper Sam Johnston have also been called up for the first time.
Liverpool defender Trent Alexander-Arnold is not included in the 26-man squad.
England will play San Marino at home on March 25, play away in Albania on March 28 and host Poland on March 31.
Midfielder Lingard, on loan to West Ham from Manchester United, played for the national team in June 2019.
"Jesse, of the three, is a little more lucky to be around," said Southgate. Luke and John performed over a period of time.
"We have injuries in the attack areas that have given Jesse an opportunity, but I have to say his performance for West Ham has been excellent.
"Ideally, you'll say you have to do it a little longer but that wasn't the option this time."
17-year-old Borussia Dortmund midfielder Jude Bellingham is in the squad but may be out due to coronavirus restrictions in Germany.
"We are still investigating what is possible and wanted to name it on the team," Southgate said.
Bellingham teammate Jadon Sancho will miss the team due to injury, along with midfielders Jordan Henderson and Jack Grealish as well as goalkeeper Jordan Pickford.
The Stones have not played for England since November 2019, while left-back Manchester United Show's last game for the national team was in September 2018.
The Stones, who played 39 international matches, helped Manchester City top the Premier League this season, while his team is also in the Champions League, FA Cup and League Cup, as it seeks to complete the four-way league.
"It's a big plus for us," Southgate said. "John has played a lot of international players for us. For a while we were not sure if he would be able to regain this level."
"When you invest so much time and so many games in players like that and it disappears, it's a big disappointment.
"John deserves a lot of credit for changing that and finding a level of consistency. It's great to get it back."
Upon summoning Shaw, Southgate added: "We often talk about the influence of coaches and managers on players, but we have to give the players a lot of credit.
"In Luke's case, he was defending with the front foot. He was aggressive in his defense and showing great ambition in his offensive play. We know he has the quality to do it.
"He's got his chance and he deserves to participate."
Leeds United striker Patrick Bamford, who has scored 13 Premier League goals this season, missed but Southgate said he was "very close" to his choice.
Instead, he chose England coach Watkins, who scored 10 league goals in his first season.
"There are a number of positions in this team and there were some real calls. We felt we wanted an additional striker," Southgate added.
"Both Ole and Patrick, their goals were good. We love the personalities of both of them. Ole is a player with whom we have had less interaction in the past. It would be nice to get to know him."
"We love his pressure, the speed and the running back. He's had some improvement in linking the game, but in his first season in the Premier League at a big club, he performed exceptionally well."
Liverpool struggled to defend their title this season and aside from that, right-back Alexander-Arnold's performance was affected as well.
"I don't think he's at the level he's found in the last two years, but I think he's getting close to that now," Southgate said. He has taken steps in the right direction.
"I had the same call with Kyle [Walker] And Kiran [Trippier] In the past they responded well. I'm sure Trent will play a big role in the future. "
England Squad:
Goalkeepers: Dean Henderson (Manchester United), Sam Johnston (West Promicino), Nick Pope (Burnley).
The Defenders: Ben Chilwell (Chelsea), Connor Cody (Wolverhampton), Eric Dyer (Tottenham), Reese James (Chelsea), Harry Maguire (Manchester United), Tyrone Mings (Aston Villa), Luke Shaw (Manchester United), John Stones (Manchester City) ). ), Kieran Trippier (Atletico Madrid), Kyle Walker (Manchester City).
Midfielders: Judd Bellingham (Borussia Dortmund), Phil Foden (Manchester City), Jesse Lingard (West Ham, on loan from Manchester United), Mason Mount (Chelsea), Calvin Phillips (Leeds), Declan Rice (West Ham), James Ward Bruce. (Southampton).
Attackers: Dominic Calvert Lewin (Everton), Harry Kane (Tottenham), Marcus Rashford (Manchester United), Bocayo Saka (Arsenal), Raheem Sterling (Manchester City), Ole Watkins (Aston Villa).